Wow. It's been a while, huh? We got the Christmasing and holiday-ing done and cleaned up. the kids are back in school. I even trimmed my getting-frightfully-long-but-very-feminine nails so I could type without using my knuckles. No more excuses to not get back into writing. And if I can, I'll do a bit of catching up with our festivities.
I heard that the first Monday back to work after the holidays has been shown to be the most depressing day of the year. I'll bet the rest of the week isn't much better. Part of that, I'm sure, has to do with not feeling well from all the junk we consumed. Another part, for me, is the letdown of not-much-to-do after the crazy busy of December. This year, however, we have plenty to do. Less than three months from now, Alec is joining the ranks of an LDS missionary. It's high time we start getting him ready. I probably should do a few posts on this - the whole process of getting a boy ready to be a missionary - just because I'll be doing it a few times. Seven, to be exact.
I'll let the preliminaries occupy other posts and we'll just talk about suits here. My boys haven't normally worn suits. A full dress suit is just a bit too expensive of an item to purchase for a boy who is expected to grow out of it in three weeks or less. Or blow out the knees.
One of my favorite aunts (bless you, Aunt Shirley!) bought suits for the older three or four boys for Christmas one year. As it turned out, that was the year Jay died just before Christmas, so they wore them to the funeral. They looked splendid.
Years later, when Trent and I married, we outfitted the five boys in tuxedos for the wedding. Dashing. The pictures of my little (and getting-bigger) boys in a row of tuxes are some of my favorite memories.
But since then... they wear white shirts and dark slacks to church. I will mention that we have a closet full of formal wear, as some of the boys have had to purchase tuxedos for choirs and bands they have performed in. We have quite a collection of tux pants and jackets in different sizes, as well as ties and vests and cummerbunds. It saves us a lot of money come Prom and Homecoming time! And I love seeing my boys all gussied up. So handsome. It's almost too bad they can't wear a tux on a mission!
The local elders came by while we were taking pictures for Homecoming last fall, so here is the range of man-dress from Sunday best and Tuxedo pants to missionary attire. They're all handsome!
Alec does have a hand-me-down suit from a cousin, but he's really gotten too broad in the shoulders for it to be a good fit. Suit shopping is now on our list of things to do. As a little bit of preliminary research, here are some things about suits that we need to know.
This
is the look we're aiming for: well-groomed and conservatively-dressy.
A little bit more modern and trendy than the conservative look we're after, but some good guidelines
here
.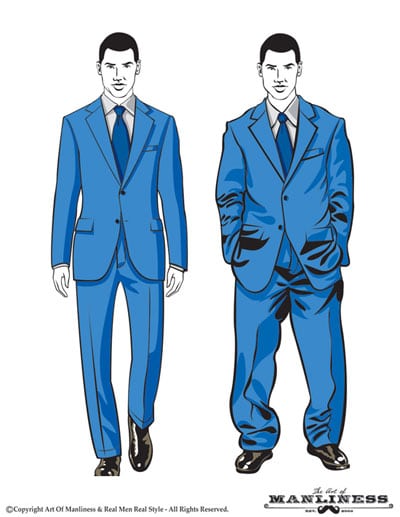 A good guide to what a well-fitted suit looks like, from the ever awesome
Art of Manliness
.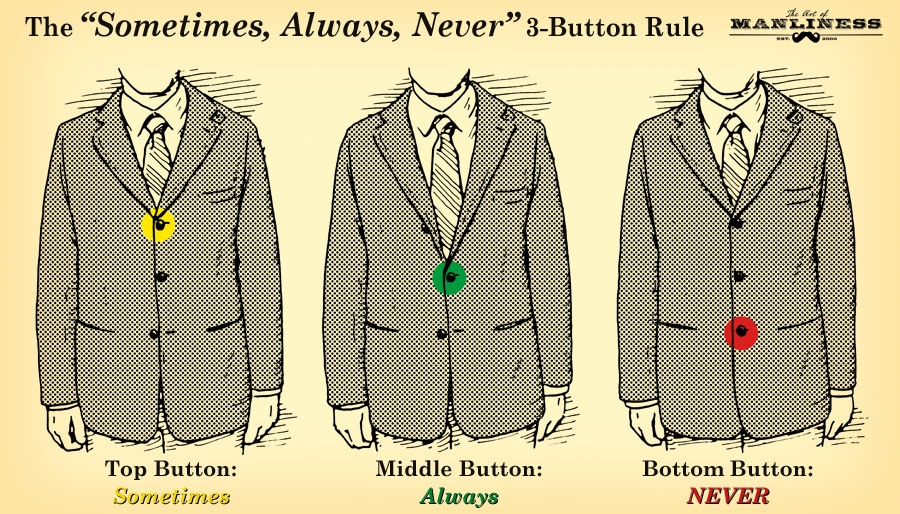 Good
way
to remember which buttons get buttoned and which don't.
And of course, we need to know how to tie the necktie to go with the suit. We find the Four in Hand to be the easiest for young boys to master, but makes too small of a knot for older guys. Ben has to stick with this one to conserve tie length. The Windsor is a great looking knot, but makes for a much shorter tie when you are done - bad for our tall boys. I'm partial to the Half Windsor. I haven't been familiar with the Shell, so we'll have to try it!