The pipe kind of organs, not the slimy guts kind of organ. I know it's getting close to Halloween and all, but I'm not ready for that yet.
My mother played the organ. Beautifully. I think it was like breathing to her. She and a friend used to do a little touring to different church congregations on Sundays and play piano and organ duets. In high school!
She was the organist in Sunday meetings for as long as I can remember. In fact, for a while Dad was the clerk and Mom was the organist. The organist sits at the organ on one site of the stand at the front of the chapel, while the clerk's desk is on the opposite side of the stand. We took turns getting to sit beside Dad while he counted attendance in the meeting and took notes in his fine neat handwriting totally befitting a printer. But for those of us not sitting by Dad... we sat in the back row of choir seats halfway between the clerk's desk and the organ. I can only imagine that we wiggly kids were very entertaining to the congregation. I'll try not to think about that.
Our organ was something like this - two manuals plus a full pedalboard. And we had toys on the floor, so yes, this looks very familiar to me.
We even had an organ at home. Mom traded in the old, dark upright piano she had as a child for a newer piano and an organ. They sat opposite each other for many years at home. I loved to play on the organ (as opposed to actually playing and making music, mind you), making sounds with all the different stops. And there was a percussion box - the best part!
When I was in high school my mother signed me and my brother up for group organ lessons. We went once or twice before becoming intimidated by all the old ladies there. After a few weeks of missing class, the instructor, a kind but austere man I knew in our neighborhood, called us up and arranged for us to have our own group lessons. Drat. Now we were stuck and had to go to class - and practice! ..grumble, grumble, practicing...
I didn't know that our organ teacher, a man of quiet dignity, was a professor of organ studies at the university! It was years later I learned had studied organ in Europe, won international awards for his performances, recorded CDs, and played on many continents. I was lucky to have such a teacher.
I, along with the probably three other teenagers in the United States who played organ (it is a bit of a dying art), applied for organ scholarships. The award money was not much, but it kept me in lessons at college (with another very gifted and accomplished organ teacher), and gave the opportunity to play on this amazing instrument: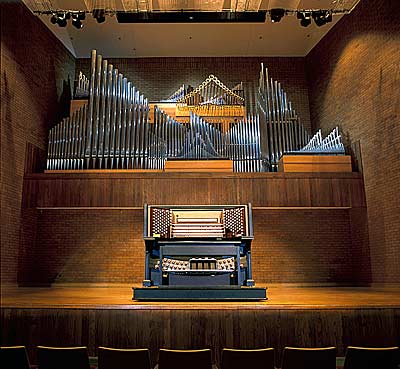 It was pretty darn awesome. When my roommate, a music major, unexpectedly lost her hearing, she would go into the hall and sit with me on the organ bench. I'd play something wonderfully loud, like Phantom of the Opera, and she'd sigh happily, feeling the music of the organ when she was unable to hear it. I loved, but did not very often dare, to crank it up loud and open all the stops. That only happened on late weekend nights when everyone else was out - or just not in the music building. My favorite stop was the wind chimes that went on in a steady silvery shimmer when their stop was pulled.
At that point, I decided that there were two other organs, among the best west of the Mississippi, that I'd like to play one day. And I wanted to play the organ in the temple. What lofty ambitions we have in our youth.
As the years passed, I often played the organ for Sunday services at church. I played the organ with toddlers on the bench and a 6-day-old baby in a sling. I taught other pianists the nuances of organ technique. I even arranged piano and organ duets. But I never did take care of those three bucket list items.
Until recently. I'm tickled to have a regular shift in the temple now, where I play beautiful hymns to soothe the soul. It's not loud, and it's not technically amazing, but it is pretty awesome. I've never felt such peace between my heart and my fingers. And I'm grateful for that sweet spirit that fills me, and even wafts home with me.
The
temple
is a wonderful place, and I feel it a great privilege to be able to serve a little bit there.